Others
Edision HDMI modulator 3in1
Edision HDMI modulator 3in1
---
EDISION HDMI MODULATOR 3in1
New Edision HDMI modulator with 3 SELECTABLE modulation SIGNALS (DVB-C, DVB-T & ISDB-T)
Input from any HDMI source (Terrestrial & Satellite decoders, cameras, DVD, DVR etc.) modulates and produces selectable output by choosing one out of 3 signals: DVB-C, DVB-T & ISDB-T, depending on the installation signal, with simple adjustment using the 6 buttons and the 4-digit LED display.
It offers High Output Resolution up to 1080p 30FPS and excellent image quality.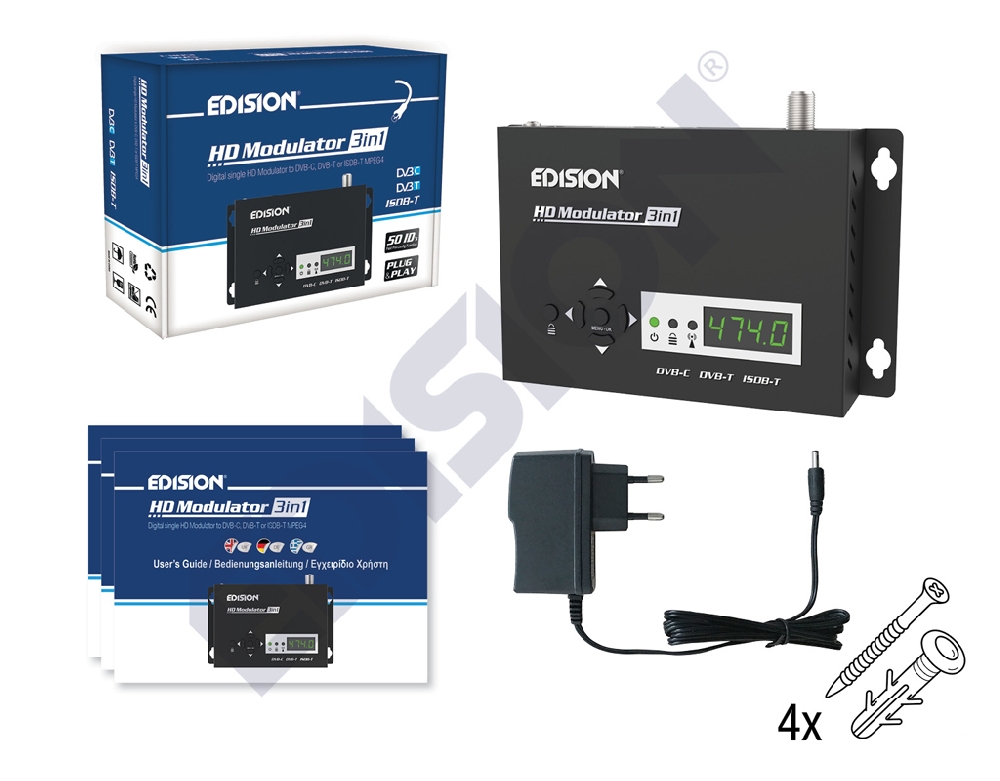 Easy and fast PLUG & PLAY installation plus rapid adjustment with the Fast Pre-Config function among 50 selectable IDs for absolute flexibility of configuration, according to three installation signals (DVB-C, DVB-T & ISDB-T) and the number of modulators in the installation.
Technical features:
- Digital single-channel HDMI Modulator to DVB-C, DVB-T or ISDB-T/MPEG4
- INPUT signal: HDMI
- OUTPUT signal: Cable DVB-C, Digital Terrestrial DVB-T MPEG4 or ISDB-T MPEG4
- High Video Resolution up to 1080p@30FPS
- Aspect Ratio 16:9 wide screen, 4:3 letter box, 4:3 pan scan
- Frequency Range DVB-C: 47-862 MHz
- Frequency Range DVB-T: VHF (CH.5-12) & UHF (CH.21-69)
- Frequency Range ISDB-T: VHF (CH.7-13) & UHF (CH.14-69)
- RF Output Level: Factory default 90 dbμV, with adjustable gain up to +6dbμV or attenuation up to -14dbμV
- MER: >35dB at Maximum RF output level
- Symbol Rate Up to 31.668 MBPS
- Bandwidth: 6MHZ, 7MHZ, 8MHZ
- Video Encoder: MPEG1, MPEG2 MP@HL , MPEG4 SP@L3 to ASP@L5, MPEG4 AVC HP @level4.1, MP@level4.1
- Audio Encoder: MPEGI L1/2, MPEGII LII, AAC LC, HE-AAC v1/v2 (2-CH)
- Processor System: CPU 200MHz 32Bits RISC
- Memory DDRII 16bit 512Mbits (Embedded) & NOR Flash 32Mbit
- Input HDMI v1.4a
- USB Type USB 2.0 HOST
- Fast Pre-Config Function / 50 IDs Selectable
- Backup Config File by USB
- Software Upgrade via USB
- Ports: HDMI IN, RF OUT, USB, DC 5V, GROUND
- 4-digit LED display
- 6-display buttons
- Power supply unit type: Adapter Input:100~240V AC, Output: DC 5V/2.0A
- Low Power Consumption in normal working mode: 10W maximum
Package includes:
HDMI Modulator 3in1
Power Supply Unit 5V/2.0A
Mounting screws
User Manual EN/DE/GR/ES/IT/FR


Shipping worldwide from EU stock, next day delivery.
---
Suitable products