IPTV
Infomir MAG 322W1 IPTV
Infomir MAG 322W1 IPTV
Brand: Infomir
Rating : 5 - Rate the product now or check reviews from customers
Plug version (if using)
Please, select plug type.

Choose packing size :
Discount for bigger package:
30

% off
CHOOSE BIGGER PACK SIZE TO GET THE LOWEST PRICE
Price per unit:

Total price:




Price is excluding VAT !

€ 74,00

Check Shipping price
Currently not available, Out of stock
---
Interested in this product ?
---
MAG 322w1 is basic IPTV STB from Infomir factory with Linux 3.3 , Chipset BCM 75839. WIFI ON BOARD

Infomir MAG 322w1 is replacement for MAG 254w1 with HEVC Compatibility.

If you are looking for stable IPTV box for Stalker with built in Wifi , then Infomir MAG 322w1 is right choice for your IPTV network or personal use.

Looking for something cheaper then MAG 322w1 ? When using mainly Ethernet connection for IPTV , prefer Linux STB with Stalker Middlewear, feel free to try Infomir MAG 322 from DVBMarket.com

Shipping worldwide !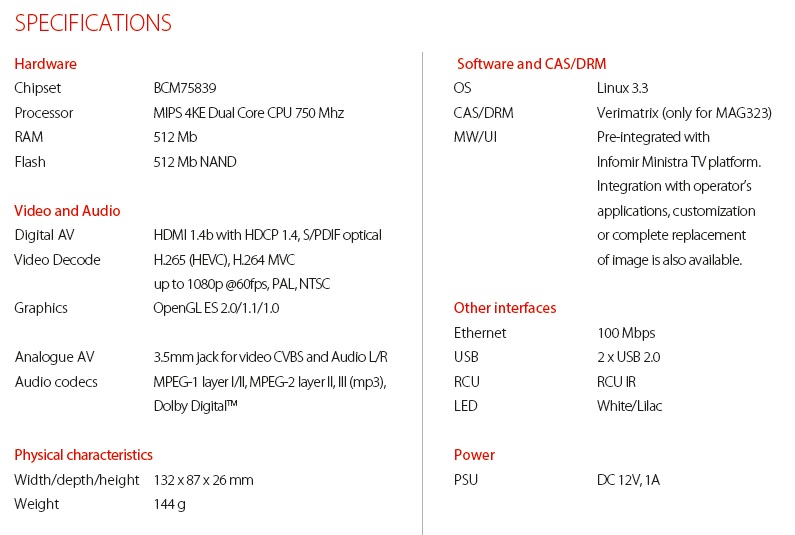 PACKAGE INCLUDING :
RECEIVER
HDMI CABLE
REMOTE CONTROLL
POWER SUPPLY - (UK /EU/ NA)
SHORT MAMUAL (EN)

Production finished in 2019, last cartons available in stock. Official replacement by Infomir - MAG 420w1

DVBMarket offering full portfolio od Infomir products, don´t hesitate to contact us.
---
Suitable products